---
23 April 2021 | 7:00 pm |
New European Ensemble presenteert 1984 (Engelstalige versie) bij OnJam TV
New European Ensemble en Greengage Ventures lanceren de Engelstalige versie van de film 1984 met acteur Joseph Thompson op 23 april om 19:00 CEST (6pm BST) bij het nieuwe digitale kanaal OnJam TV. De film met acteur Joseph Thompson en whistleblower Edward Snowden is gebaseerd op het gelijknamige boek van George Orwell. Estse componist Mihkel Kerem schreef een nieuw ensemblestuk geïnspireerd op de roman, vertolkt door het New European Ensemble in de film. Vanaf oktober 2021 volgt een tournee in theaters door Nederland.
Tickets
Tickets voor de online voorstelling kosten £7.50 en kunnen hier worden gekocht en kunnen ook na 23 april worden aangeschaft en gebruikt.
Filmpremière 1984
In opdracht van New European Ensemble maakte filmmaker Gijs Besseling met het New European Ensemble een speelfilm waarin het ensemblestuk van Kerem gecombineerd wordt met vertellingen uit de roman van Orwell geacteerd door Boris van der Ham in de Nederlandstalige versie en Joseph Thompson in de Engelstalige versie, met toelichting door Edward Snowden. Musici uit het ensemble beelden het verhaal uit in aangrijpende filmscènes.
Credits 1984 – Engelstalige versie
Tekst: George Orwell
Film: Gijs Besseling
Regie: Emlyn Stam
Assistent regie: Sophie Hunter
Acteur: Joseph Thompson
Presentatie: Edward Snowden
Muziek en dirigent: Mihkel Kerem
Cello solo: Willem Stam
Ensemble: New European Ensemble
Mede mogelijk gemaakt door: Het Kersjesfonds, the Netherlands Performing Art Fund and The City of The Hague.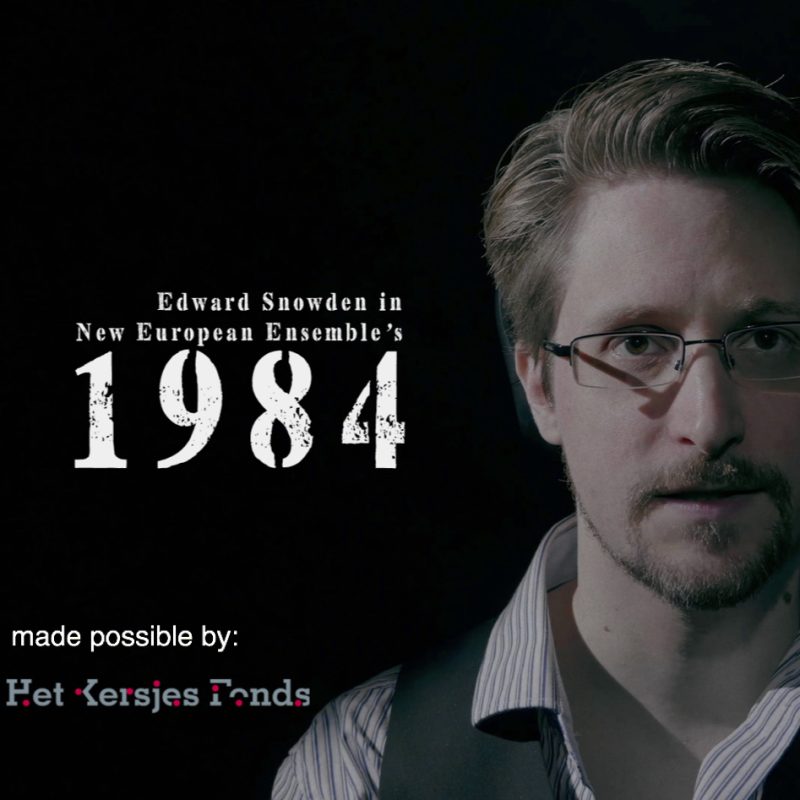 New European Ensemble presenteert 1984 (Engelstalige versie) bij OnJam TV
23 April 2021 | 7:00 pm
Online bij OnJam TV
Klik hier om de Engelstalige versie van 1984 te bekijken