25 June 2021 | 8:00 pm |
1984 on George Orwell's birthday
George Orwell was born on 25 June 1903 in Bengal, India. This year, celebrate Orwell's birthday with a screening of our movie 1984, a film and music adaptation of his iconic novel 1984.
1984 will be available on demand for another 30 days.
This original 65-minute film reimagines the novel against a new musical tapestry, created by Estonian composer Mihkel Kerem.
Created by New European Ensemble and Greengage Ventures, featuring American National Security Agency (NSA) whistleblower Edward Snowden, British actor Joseph Thompson and the composer Mihkel Kerem.
Musical America said: "A gripping drama, imaginatively filmed [with] a first-class score. Mihkel Kerem rises to the challenge magnificently. The playing is superb… music-making of complete commitment that perfectly captures the spirit of a chilling score, conducted by the composer. This is a superb telling of Orwell's story… a modern equivalent of the novelist's claustrophobic vision."
"A powerful new film which uses Mihkel Kerem's dramatic orchestral score to explore themes from Orwell's novel" – 4 stars, Planet Hugill.
We are delighted to be collecting optional donations for The Orwell Society via tickets to this online event. If you would like to donate, please select one of the "Ticket + donation to The Orwell Society" options.
Tickets for the performance are £5.00 and can be purchased here. 
Credits 1984
Text George Orwell
Music and conductor Mihkel Kerem
Directed by Gijs Besseling, Emlyn Stam and Sophie Hunter
Executive Producer Emily Ingram
Producer Clementine Seely
Actor Joseph Thompson
Presentation Edward Snowden
Cello solo Willem Stam
Ensemble New European Ensemble
Made possible by: Het Kersjesfonds, the Netherlands Performing Art Fund and The City of The Hague.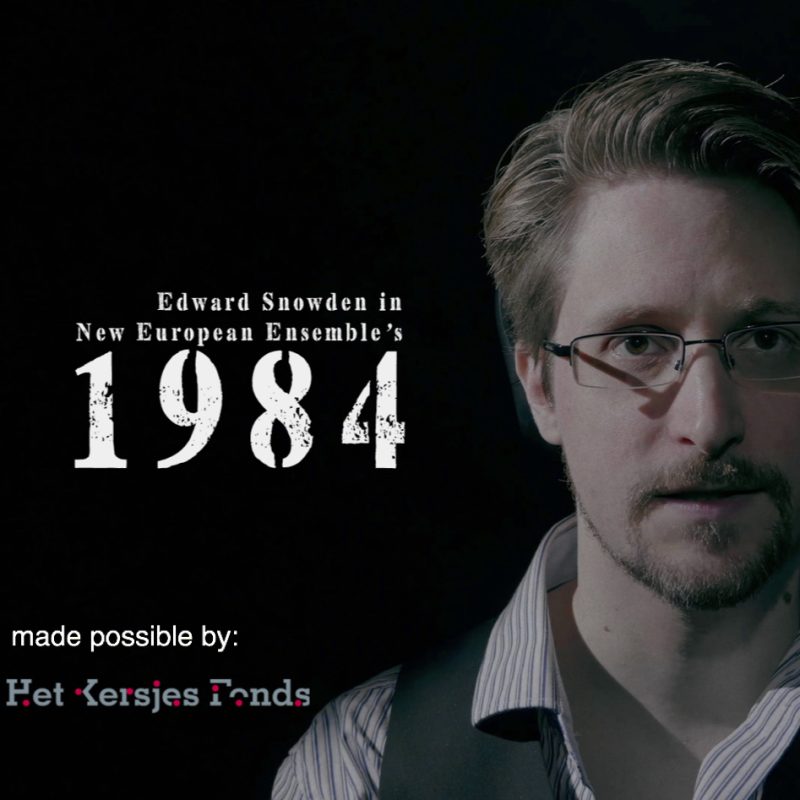 1984 on George Orwell's birthday
25 June 2021 | 8:00 pm
Online on OnJam TV
Click here to watch 1984: