23 April 2021 | 7:00 pm |
New European Ensemble presents 1984 (English version) on OnJam TV
New European Ensemble and Greengage Ventures launch the English spoken version of the film 1984 with actor Joseph Thompson on April 23rd at 19:00 CEST (6pm BST) on the new digital performance channel OnJam TV. The film with actor Joseph Thompson and whistleblower Edward Snowden is based George Orwell's classic novel. The Estonian composer Mihkel Kerem wrote a new ensemble piece based on the novel, which will be performed by the New European Ensemble in the film.  A tour with performances in theaters throughout the Netherlands will begin in October 2021.
Tickets for the performance are £7.50 and can be purchased here. 
1984 Movie Premiere
The New European Ensemble drafted Gijs Besseling to create a full-length movie combining Kerem's ensemble piece with texts from Orwell's novel acted by Boris van der Ham (Dutch version) and Joseph Thompson (English version) and presented by Edward Snowden. Musicians from the ensemble also act in a gripping cinematic rendition of the events from novel.
Credits 1984 – English version
Text: George Orwell
Film: Gijs Besseling
Director: Emlyn Stam
Assistent director: Sophie Hunter
Producer: Frederique Meijers
Actor: Joseph Thompson
Presentation: Edward Snowden
Music and conductor: Mihkel Kerem
Cello solo: Willem Stam
Ensemble: New European Ensemble
Duration: 65 minutes
Made possible by: Het Kersjesfonds, the Netherlands Performing Art Fund and The City of The Hague.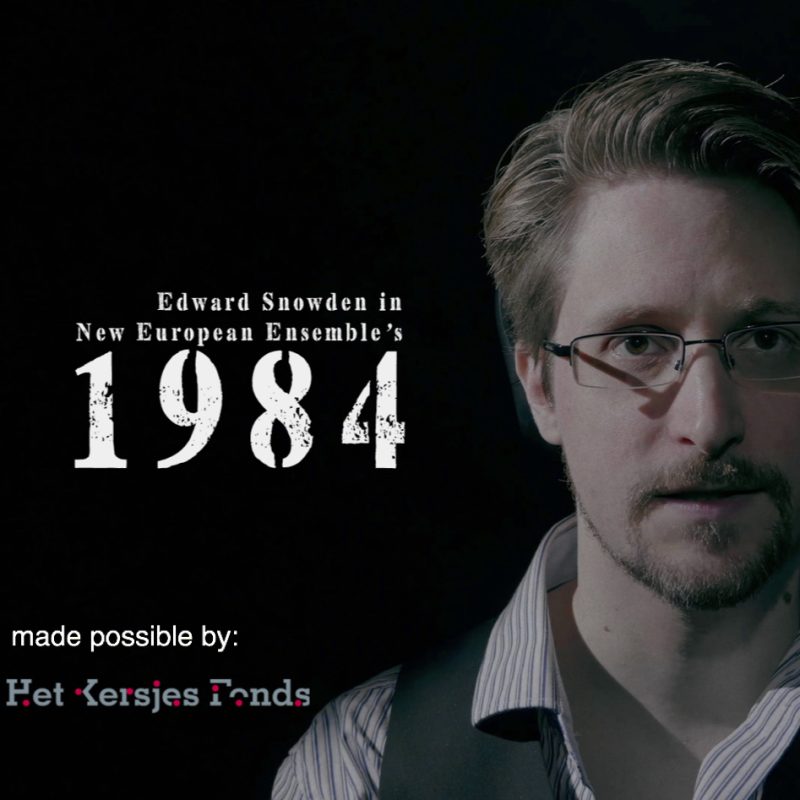 New European Ensemble presents 1984 (English version) on OnJam TV
23 April 2021 | 7:00 pm
Online on OnJam TV
Click here to watch 1984 in English