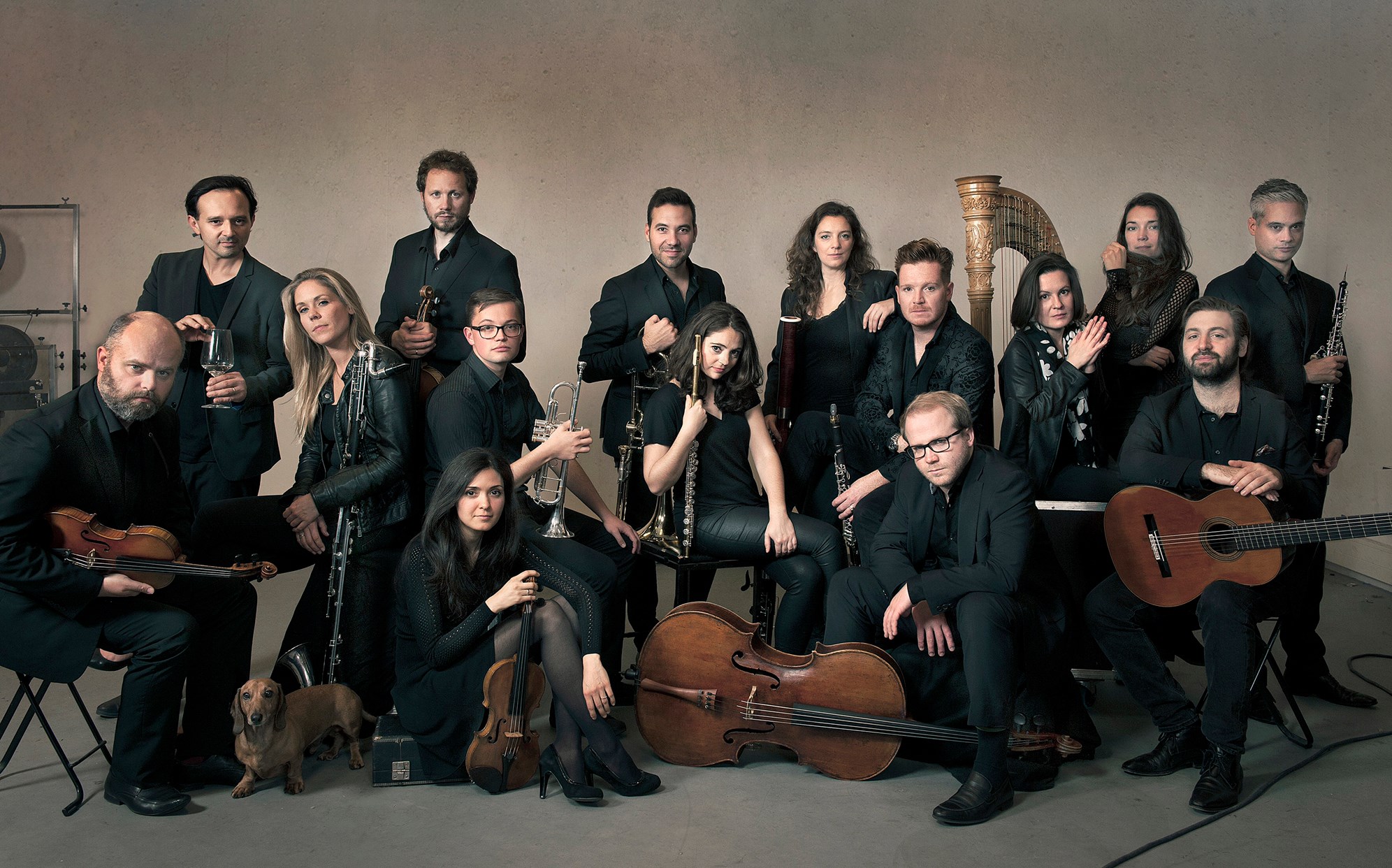 New European Ensemble
The New European Ensemble was founded in 2009 in the Netherlands by dedicated and passionate musicians from across Europe. The ensemble has built a reputation for imaginative programming as well as 'fantastic' (NRC) and 'excellent performances' (de Volkskrant) and has been called one of the 'Netherland's leading ensembles' (Nieuwe Noten). In 2019, the NEuE was awarded the prestigious Kersjesprijs. Some of today's most prominent composers like Kaija Saariaho, Magnus Lindberg, Mark Anthony Turnage, Bright Sheng and Anna Thorvaldsdóttir enjoy working with the group.
The ensemble's mission is to present contemporary music and 20th century classics in exciting ways, this is why the group often combines music with film, literature, theatre, dance and visual art.
Famed composers like Mark Anthony Turnage, José María Sánchez-Verdú, Anna Thorvaldsdóttir, Guo Wenjing, Carlo Boccadoro, Martijn Padding and Klas Torstensson have written works for the ensemble.
The group performed in nearly all of The Netherlands' major concert halls and theaters among them the Concertgebouw, Carré Theater and Muziekgebouw aan 't IJ in Amsterdam, De Doelen in Rotterdam, Tivoli Vredenburg and The Royal Theatre in The Hague. The ensemble performs regularly at festivals such as Gaudeamus Muziekweek, Festival Vlaanderen, November Music, Shanghai New Music Week, Beijing Contemporary Music Festival and Svensk Musikvår. International tours brought the group to the UK, Germany, Belgium, Sweden, Finland, Italy, Lebanon, China and Hong Kong.
The ensemble's musicians regularly work with young composers and performers at the conservatory level at the Hague's Royal Conservatoire and at music schools worldwide.
Jacob Kellermann (1984) has established himself as one of the most active Swedish guitarists of his generation. He was born in Stockholm where he began his guitar studies at the age of eight.
He has performed in venues such as the Seoul Art Center, the Prinzregententheater, the Gasteig in Munich and the Brucknerhaus in Linz. His concerts have been broadcast by radio and television in Sweden (P1, SVT), Germany (BR) and South Korea (KBS).
An avid chamber musician, he regularly performs with string players and singers and his programmes often include his own transcriptions.
With the Swedish violinist Daniel Migdal he forms Duo KeMi. They have toured all over Sweden and played there already more than 80 concerts. They have also performed in Germany, the Netherlands, the Czech Republic and South Korea. In march 2010 the Duo won the first prize in the Aschaffenburg Internationalen Wettbewerb für Kammermusik mit Gitarre.
Jacob is greatly interested in contemporary music and has collaborated with many Swedish composers such as Benjamin Staern and Henrik Strindberg. In May 2013 he worked with the Russian composer Sofia Gubaidulina in a project that resulted in a CD recording of her chamber music that has been released on the BIS label in the summer of 2014.
In 2006, Jacob won the National Guitar Competition 'Stora Jörgen Rörby stipendiet'. Among the many scholarships he has been awarded, Jacob Kellermann received funding from the Royal Swedish Academy of Music on several occasions for excellence as a young musician. Jacob Kellermann has studied in Sweden, Spain, the Netherlands and Germany. He received his Meisterklasse Diplom under prof. Franz Halasz at the Hochschule für Musik in Munich in 2011.
Jacob plays on instruments by the Australian Luthier Simon Marty.
Rada Ovcharova, born in Sofia, Bulgaria is active as a chamber musician and recitalist with performances throughout the Netherlands and across Europe. She made numerous recordings for television and radio in both the Netherlands and Bulgaria. She has also appeared as a soloist with the National Youth Orchestra of Bulgaria and the Delft Symphony Orchestra.
Rada Ovcharova has performed at numerous festivals, such as the Grachtenfestival Amsterdam (NL), International Chamber Music Festival (Utrecht), Music and Art Around (SE), Festival Dag in de Branding (NL) and the Saariaho Festival The Hague (NL). She is a founding member of both the Ysaÿe Trio and the New European Ensemble and regularly performs in the Netherlands, Sweden, Bulgaria and Germany with these ensembles.
Rada Ovcharova won numerous competitions including both second and first prizes at the international 'Young Music Talents' competition in Sofia. She received a prestigious scholarship from the Labberté Foundation to study in the Netherlands where she completed both a Bachelor of Music degree at the Conservatory of Amsterdam and a Master's degree at the Rotterdam Conservatory. Her teachers have included Thomas Brandis, Phillipe Graffin, István Párkányi, György Pauk and Gordan Nikolic.
Having started her international career at the age of eleven, Hanna Shybayeva transformed from child prodigy into the mature and exciting musician she is today. She has been praised by the press and the audience for her compelling interpretations, captivating energy, great sense of form and rich colour palette. Being devoted to music in every form, Hanna enjoys her solo performances as much as being a collaborative partner in both chamber and vocal music.
Since 2008 she is a core member of the New European Ensemble. In the same year Hanna started the chamber music project Symphonic Intimacy with the Ysaÿe String Trio, showcasing symphonic works from the eighteenth century till the present in arrangements for chamber ensemble, made by the composers themselves or contemporaries.
Born in 1979 into a family of musicians, Hanna began her piano education at the age of six in her birthplace Minsk (Belarus).
In the course of time she won many prizes in Europe and the US, and developed a busy concert schedule with performances in festivals, recitals and in solo concertos with orchestras in Europe, Russia and the US, such as the Philharmonic Orchestra of Belarus, the North Ossetia State Philharmonic Orchestra, the Philharmonic Orchestra of Belgrad, the Kammerorchester Lünen, the Philharmonic Orchestra of Dortmund, the Minnesota Symphony Orchestra (US) and the Chamber Orchestra Amici della Musica (Belgium).
Hanna was privileged to work with conductors such as Yuri Ziryuk, Gennadi Provatorov, Joachim Simon, Angel Shurev, Lygia O'Riordan, Moshe Atzmon, Marc Russell-Smith, Yaron Traub and Neeme Järvi. She was awarded grants from Unesco/New Names (Moscow), the George Soros Foundation, the Spivakov Foundation (Moscow), the Yuri Egorov Foundation (Amsterdam), Yamaha Music Europe and the Prince Bernhard Cultural Foundation of the Netherlands.
At the age of eighteen Hanna left her hometown in search of new possibilities to learn and to explore her talent. After having spend a year travelling throughout Europe, she came to the Netherlands in 1999 to continue her studies with Naum Grubert at the Royal Conservatory in The Hague, where she graduated in June 2005 as Master of Music with the highest distinction.
Her first CD-album (2000) was broadcast on the Netherlands' classical Radio 4, and in 2001 she won the two top prizes at the YPF National Piano Competition in Amsterdam. Shortly afterwards, Philips-Universal released her second CD-album, which was highly praised in the Dutch press. Since then, her numerous performances include appearances at the annual Prinsengracht Concerts & Festval (Amsterdam), the Concertgebouw Amsterdam, Vredenburg Utrecht, the Vereeniging Concert Hall in Nijmegen and many other venues, as well as concerts in Germany, Italy, Belgium, the United Kingdom, Ireland, the US and Canada. In 2008 she participated in a documentary film based on Sergei Prokofiev's The Unfinished Diaries, produced by Up Front Entertainment Inc. in Canada.
In 2009 she released a CD with Schubert sonatas on the Brilliant Classics label. In 2012 she recorded Rachmaninov's Etudes-Tableaux (Etcetera/YPF). Her most recent CD Japan Echoes includes works by Toru Takemitsu and Kenneth Hesketh (Teriyaki Records, Italy, 2013).
In 1997 and 1998 Felicia van den End gained the first prize in the National Flute Competition. In 2003 she won the national competition Netherlands Young Musical Talent and was selected as Young Musical Talent of 2002. A first prize in the Princess Christina Competition resulted in an appearance at New York's Carnegie Hall. Further distinctions followed, including the first prize in the Jeunesses Musicales flute competition in Bucharest and the Essent Music Award for young talent 2003.
In 2005/2006 she studied with Pierre-Yves Artaud at the Conservatoire National Supérieur. In 2007 she graduated with the highest distinction for her bachelor's grade at the Utrecht Conservatory, where she has studied with Abbie de Quant. In 2011 she finished her post graduate degree in Geneva, where she studied with Jacques Zoon.
As a soloist she has appeared with several orchestras, including the Antonio Lucio Chamber Orchestra, the North Holland Philharmonic Orchestra, Camerata Amsterdam, the Netherlands Chamber Orchestra, the Kiev Solists, the Dutch National Youth Orchestra, Sinfonietta Amsterdam and the Magogo Orchestra.
Felicia was an academist from 2007 until 2008 at the Opera Orchestra in Zürich. Since 2009 she is part of the New European Ensemble.
Felicia played at the Concertgebouw's Young Dutch Performers series and the Gergiev Festival. In the context of the Debut Series, she gave eleven concerts in the Netherlands' most important concert halls. For this series she won the audience price, together with the pianist Daria van den Bercken and the singer Karin Strobose. In October 2008 Felicia was awarded the Elisabeth Everts price for young talent.
Since May 2015, with the release of her cd Sonoro, Felicia is a Sony artist.
Felicia is co-founder of foundation Sonoro, that offers children with a difficult socio-economic background in Mexico a different perspective through music and other arts. For more information check the website of Sonoro: www.stichtingsonoro.com.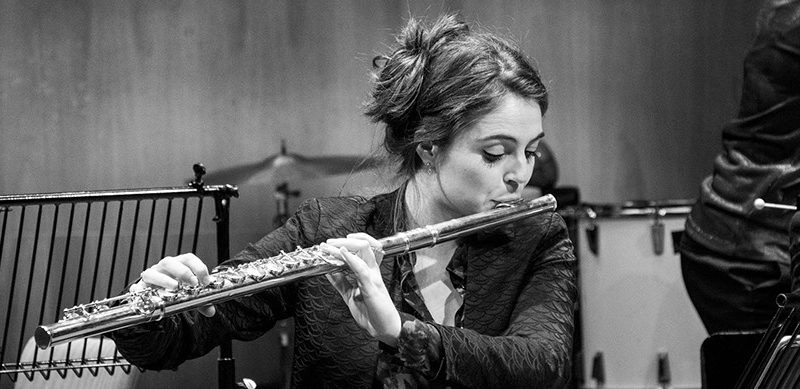 The Canadian/Dutch cellist Willem Stam was born and raised in Calgary, Canada. In 2006 he moved to The Hague where he is currently based. His repertoire spans the entire history of the cello and beyond. He works frequently with living composers. A versatile and flexible musician, he performs regularly as soloist, chamber musician, and conductor in a large variety of ensembles and settings.
He is the founding cellist of the Netherlands-based Ysaÿe Trio, an ensemble that released its first CD on the Dutch Record Company label in 2013 with a planned second CD release in late 2014. He is also co-founder and artistic committee member of the New European Ensemble.
Willem studied in Canada with Beth Sandvoss and John Kadz and in the Netherlands with Dmitry Ferschtman; he completed his master's degree in 2012. He has played for and worked with many of the worlds leading cellists and pedagogues and brings this background into his own teaching, including masterclasses that he gives in Canada, South America and Europe. Willem teaches at Music For Life in Amsterdam and gives regularly master classes and lessons to cellists around the world through the internet.
Willem plays on a Stefano Scarampella (Mantova 1918) cello with a Victor Fétique bow (Paris), made available by the National Instrument Foundation of The Netherlands.
Violist Emlyn Stam is active as a chamber musician, soloist and orchestral musician in the Netherlands and throughout Europe. For seven years he was assistant principal violist of the Residentie Orkest in The Hague under Neeme Järvi. Other orchestral work has included appearances is as a guest principle with the Philharmonia Orchestra, the BBC Welsh National Orchestra and the Toulon Opera.
Emlyn Stam has made numerous appearances for Dutch radio and television, he has appeared as a soloist with the Amsterdam Symphony Orchestra and the Schönberg Ensemble. He has also performed at numerous festivals such as the Kuhmo Festival in Finland, Sound of Stockholm, Connect Festival, Giverny Chamber Music Festival, International Chamber Music Festival Utrecht and Grachtenfestival Amterdam.
Chamber music performances have included concerts with the Párkányi Quartet in the Concertgebouw and regular appearances with the Ysaÿe Trio of which he is a founding member. The trio released their first cd in 2013 on the DRC label. Emlyn is a founding member of the New European Ensemble as well as the ensemble's artistic coordinator.
Emlyn finished his Bachelor's degree in June 2006 and his Master's in September 2008 at the Royal Conservatory in The Hague, having studied with Ferdinand Erblich and Vladimir Mendelssohn. Further studies have included masterclasses with Pinchas Zukerman, Michael Tree, Yuri Bashmet, Roberto Diaz, Tabea Zimmerman, Kim Kashkashian and Gerald Stanick. Emlyn also plays the Viola d'Amore.
Mihkel Kerem embodies a tradition of famous violinists who are not only virtuosic soloists in their own rights, but also prestigious orchestral leaders, versatile chamber musicians and renown composers as well. Currently the Assistant Concertmaster with the Royal Liverpool Philharmonic Orchestra, UK and Brandenburg Sinfonia, UK.
In addition to his orchestral playing Mihkel is in demand as a soloist worldwide, and has also performed at Chamber Music Festivals across Europe, featuring live on BBC Radio Three. To date Mihkel has composed over 150 works. Critic Robert Maxham writes for Fanfare: "anyone who believes traditional tonality to be no longer capable of expressing anything more than timeworn clichés should listen to Kerem's work." In 2012, Toccata Classics released a CD of his 4 Violin Sonatas. A second CD of Symphony No. 3, Lamento for Viola and Strings and the String Sextet was issued in 2013.
In 2009, harpist Astrid Haring finished her Master studies Summa Cum Laude with Ernestine Stoop at the Royal Conservatory in The Hague. With her final concert she won the "Fock Medal", a price for the best exam of the year, rewarded by the Conservatory.
With a dedication to multidisciplinarity in the arts, Astrid likes to commit herself to crossover projects. Because of her affection for dance she initiated a collaboration with choreographer David Middendorp in 2008. Together they developed the performance '15 minute universe', in which a swirling mix of harp, dance and animationtechniques resulted in performances among others on the Dutch festival Lowlands in 2009 and the Expo 2010 in Shanghai.
Since 2010 Astrid cooperates with Frysian singer Nynke Laverman, with whom she performed on various venues and festivals such as the Oerol Festival 2010 and the Edison Awards 2010. In collaboration with Nynke and arranger and guitarist Ward Veenstra, Astrid has developed a colourful programme in the field of world- and popmusic and Nynke's own written music.
In 2010 Astrid participated in the musictheatre production 'Frank en Stein' in collaboration with director Marcel Sijm, composer Florian Maier and actors Rene Groothof and Oscar Siegelaar. In 2009, Astrid's cooperation with Operadans resulted in the performance of 'The Snow Queen', which featured soprano, harp, dance and narrator.
Since the performance of two world premières on the 10th World Harp Congress in Amsterdam july 2008, Astrid forms a duo with basstrombonist Brandt Attema. From then on they inspired many composers to write for this new and versatile combination of instruments and performed in various countries such as Brazil, Singapore, Denmark and Sweden.
As well Astrid has a duo with soprano Caroline Cartens, with whom she developed a broad repertoire with Opera, French melody and contemporary music.
Besides these projects Astrid regularly plays with various orchestra's and ensembles. For instance she played with the Hague Philharmonic Orchestra, the Asko|Schönberg Ensemble, the Brabant Orchestra, the Limburg Symphony Orchestra, the Rotterdam Philharmonic Orchestra the Royal Flemish Philharmonic, the Galician Symphony Orchestra, the Ives ensemble and Ensemble Champ d'Action.
In addition to her Master studies, Astrid was selected for the academies of the Hague Philharmonic Orchestra and the Asko|Schönberg Ensemble, which has developed a special coaching programme for Masterstudents with a strong focus on the performance of 20th and 21st century ensemble music.
She followed masterclasses with Edward Witsenburg, Isabelle Moretti, Isabelle Perrin, Daphne Boden, Brigitte Sylvestre, Hugh Webb and Park Stickney.
James Meldrum is fast establishing himself as an exciting and versatile clarinettist in the UK and Europe. After gaining both a first class BMus (hons) degree and an Advanced PGDip with Distinction from the Royal College of Music, London, he is currently holding the position of principal clarinet with the New European Ensemble in The Hague and is pursuing a busy career as an orchestral and chamber musician as well as a recital and concerto soloist.
While studying James held a Foundation and Postgraduate scholarship from the RCM and also held the MBF Music Education Award, MBF Ian Flemming Award, Countess of Munster Musical Trust Award, and the Wilkins-Mackerras Scholarship.
After winning his first orchestral trial at the age of 20 James, has played with the Philharmonia Orchestra, the English Chamber Orchestra and the London Chamber Orchestra as well as being guest principal clarinet with international orchestras including Iceland Symphony Orchestra, de Filharmonie Antwerpen, the Young Janacek Philharmonic and the Kazakhstan Philhamonic Orchestras. He has collaborated with many renowned musicians including Levon Chilingirian, the Medici Quartet, Susan Danial, Melvin Tan and Liz Watts and has worked with composers including Helmut Lachenmann, Mauricio Kagel, Oliver Knussen, Magnus Lindberg, Kaija Saariaho and Joseph Horovits.
As an avid chamber musician, James has performed all over the world and regularly works with Ensemble 360 (Sheffield), the Cavaleri Quartet and the Winterbrook Trio, and was featured in a Dutch prime time television series exploring contemporary music.
Recent engagements have included concerto performances of John Adam's Gnarly Buttons in the Netherlands with the NJO Summer Academy, Aaron Copland's Clarinet Concerto with John Wilson in Cadogan Hall, London, Finzi's Clarinet Concerto and Mozart's clarinet concerto with the Orpheus Sinfonia and the Firebird Orchestra with Achim Holub. As a recitalist and chamber musician James has performed in nearly all of the UK's main festivals including the BBC Proms, the Cheltenham and Oxford international festivals as well as on international radio and television.
Amber Mallee (Amsterdam, 1985) is a versatile musician who performs across Europe presenting a wide range of repertoires in various ensemble and orchestras.
She began her bassoon studies at the Royal Conservatoire in The Hague with Johan Steinmann where she studied together with some of the New European Ensemble's founding members. As part of her studies she participated in an Erasmus exchange at the Hanns Eisler Hochschule in Berlin. This exchange opened the door for her to continue her studies at the International Chamber Music Institute and the Escuela Superior de Musica Reina Sofia in Madrid with Professor Klaus Thunemann.
She finished her studies at the Hochschule für Musik in Mannheim with Professor Ole Kristian Dahl, where she graduated with a Masters of music.
To pursue her studies she was granted scholarships by the Prins Bernhard Culture Fund and the National Fund for Performing Arts (Fonds voor de Podiumkunsten). She also recieved a generous gift from Stichting Eigen Muziekinstrument which made it possible for her to purchase her Heckel-bassoon.
She was a member of the European Union Youth Orchestra (EUYO) as well as of both Dutch National Youth Orchestras and performed as a soloist with Kurpfälsisches Kammerorchester and the Rotterdams Kamerorkest. She has appeared at numerous festivals such as the Zermatt Chamber Music Festival, Santander Festival, and the Ruhrtriennale.
Over the past few years Amber has worked with the Royal Concertgebouw Orchestra, Tonhalle Orchester Zürich, Rotterdam Philharmonic Orchestra, Die Deutsche Kammerphilharmonie Bremen, the Hallé Manchester, Malaysian Philharmonic Orchestra, Le Concert Impromptu Paris, AskoSchönberg Ensemble Amsterdam and many other orchestra's and ensembles.
Amber has been a member of the New European Ensemble since July 2017.
Jose 'Pepe' Garcia Rodriguez
Percussion
Jose 'Pepe' Garcia Rodriguez is a versatile Mexican performer living in the Netherlands that happens to play percussion and some other stuff as well. He specializes in working together with composers, performers, and other artists to create exciting new work.
Recognized for his charisma and musicality, Pepe Garcia is a pioneer in creating ways of approaching new music through the aid of unconventional methods of musical notation, designing new instruments, fusing technical resources from non western cultures and extending the possibilities of traditional percussion instruments through electronic processes.
Pepe received his Bachelors and Masters Certificate at Koninklijk Conservatorium in Den Haag. He has also traveled to India to study Mridangam and Carnatic music with B.C. Manjunath.
He was awarded with the Ear Massage percussion quartet in the IPCL 2004 (International Percussion Convention Luxembourg) and Gaudeamus Interpreters Competition in 2009.
Pepe is co-founder of Foundation Sonoro". Life for many children in Mexico is difficult and they are subject to the temptation to fall into crime. Through Foundation Sonoro they offer them a different perspective by organizing music/theater workshops and concerts. By working with local crime specialists and psychologists he deals with the problem at its root. Offering proper information and guidance to the parents is crucial for creating a safe environment for children at home. www.stichtingsonoro.com
Current member of Slagwerk Den Haag (Percussion The Hague), a group that has built up a leading position, both nationally as well as internationally; a position, which has brought them to virtually all European countries, the United States, South America, the Middle East, Japan and Korea. In its use of instrumentation as well as sound sources The Hague Percussion is noticeable for an enormous diversity. Equally broad is its programming: from specialized research projects to accessible programs for a general public and from concerts for the youngest generations to large-scale (inter) national co-productions.
Ryanne Hofman
Bass Clarinet
Ryanne Hofman, born in Delft, the Netherlands, began her clarinet studies at the age of 11. She completed her Bachelor of Music degree at the Royal Conservatory, The Hague, where she studied with Ab Vos. In 2003 she started studying bass-clarinet and since then has dedicated much of her time to this instrument.
Ryanne is an active performer of chamber music and contemporary music as well as an orchestral musician. She has played with several international youth orchestras and performed with the ensemble ASKO|Schönberg and with The Hague Philharmonic Orchestra. She has also participated in international masterclasses with Martin Fröst, Eric Hoeprich and Joan-Enric Lluna.
Ryanne Hofman is currently studying for a double Master's degree at the Conservatory of Amsterdam with Hans Colbers (clarinet) and Erik van Deuren (bass-clarinet).
In 2006 Christopher Bouwman was chosen by then music director Lorin Maazel to become the solo oboist of his newly found opera house in Valencia – Spain. As a member of the Orquesta de la Comunitat Valenciana, he has played extensively with the conductors Lorin Maazel, Zubin Mehta, Riccardo Chailly, Georges Prêtre and others. He has also performend in the Budapest Festival Orchestra, the Bavarian State Opera and the Frankfurt Opera.
During the 2014-2015 season, Christopher will be on trial for the position of solo oboist of the Orchestre de la Suisse Romande. He has performed solo concertos of Mozart and Strauss, with the Bruckner Orchester Linz and the Swedish Radio Symphony Orchestra, and with the conductors Dennis Russell Davies, Vasily Petrenko and Tamás Vásáry.
Christopher is also an enthusiastic chamber musician, being a founding member of the ensemble Schulhoff. He was invited to perform at the Amsterdam Grachtenfestival and the Delft Chamber Music Festival.
At the age of twelve Christopher was admitted to the Royal Conservatory of The Hague, where he studied with Ali Groen, Frank Minderaa and Han de Vries. He completed his Master of Music studies with distinction. He continued his studies in Geneva with Maurice Bourgue where he received his Diplôme de Soliste.
Christopher has been a successful winner of both national and international competitions, including the Princess Christina competition, the 2003 European Music Prize for Youth and the third prize at the Barbirolli International Oboe Competition. In 2009 he was the recipient of the second prize at the prestigious Fernand-Gillet International Oboe Competition. He also received generous grants from Nuffic, the Yamaha Cultural Foundation and the Prince Bernhard Cultural Foundation.
Ryan Linham began studying music at the age of 6, starting with the piano and a short time after taking up trumpet and percussion. At the Havering Music School, Essex Music Services and The Royal Academy of Music Junior Department he studied with Matthew Dickenson and Tim Hawes. He has recently graduated as a Foundation Scholar at the Royal College of Music, studying trumpet under Alistair Mackie (Philharmonia Orchestra) Alan Thomas (City of Birmingham Symphony Orchestra) and Mike Lovatt.
Ryan won the Havering Young Musician of the year 2010, and lead the Junior Royal Academy Brass Quintet to win the Dame Ruth Railton Chamber Music prize. In 2012, Ryan won the RCM Brass Concerto competition playing the Peter Maxwell Davies trumpet concerto, and year after won the RCM Brass Solo Prize. With Kensington Brass they have won RCM Brass Ensemble Competition in both 2012 and 2013 and reached the final of the Royal Overseas League Competition. Ryan has played lead trumpet in both the Conservatoire UK Big Band 2011 and RCM Big Band, including performances in the London Jazz festival. Notable Jazz names Ryan has played with include Michael Garrick, Gareth Lochrane, Martin Hathaway and Alan Jackson.
Ryan has recently been appointed the Trumpet position in the New European Ensemble, and is currently on trial for the position of Principal Trumpet with the City of Birminham Symphony Orchestra. Professionally, Ryan has played with the Philharmonia Orchestra, English National Opera, London Sinfonietta and Birmingham Contemporary Music Group. At the RCM, performances have included Eine Alpensinfonie and Bruckner 8 under Bernard Haitink and Mahler 5 under Lorin Maazel. In Summer 2012, he held the principle trumpet seat with the Aldeburgh World Orchestra, performing at the BBC proms and Concertgebouw Amsterdam under Sir Mark Elder.
As a soloist Ryan has performed the Haydn Trumpet concerto with both the Havering Concert Orchestra and Redbourne Upper Orchestra, the Vivaldi Double-Trumpet concerto with the European Vacation Chamber Orchestra, and the Peter Maxwell Davies Trumpet Concerto with the RCM New Perspectives orchestra.
Ryan's other interests include musical theatre, having played trumpet in, acted in, and been musical director totalling over 20 shows. He is also a British Ballet Organisation qualified tap dancer.
Malgorzata Walentynowicz
Piano
Małgorzata Walentynowicz was born in Gdańsk, Poland and graduated from the Academy of Music in Gdańsk, the Hochschule für Musik und Theater in Hannover, and the Hochschule für Musik und Darstellende Kunst in Stuttgart, where she obtained an honours degree in the interpretation of contemporary music.
She has dedicated herself to performing new music as a soloist, in ensembles, and with orchestras.
She often takes part in projects involving multimedia, performance art, and theatrical elements.
Małgorzata won 1st Prize at the 37th Gaudeamus Interpreters Competition in Amsterdam and 1st Prize at the Yvar Mikhashoff Trust for New Music Competition in Buffalo, New York.
For her interpretations of contemporary music, she was also granted a scholarship for excellence in performance from the Darmstadt International Summer Courses and was nominated for the Classical:Next Innovation Award 2017 in Rotterdam.
Małgorzata has performed as a soloist and chamber musician in festivals and venues such as MaerzMusik, Ultraschall Berlin, Warsaw Autumn Festival, Wittener Tage für neue Kammermusik, Rainy Days Luxembourg, ECLAT Stuttgart, Klangspuren Schwaz, ISCM World Music Days, the Summer Courses for New Music Darmstadt, SPOR in Aarhus, Acht Brücken Festival Cologne, Huddersfield Contemporary Music Festival, Sacrum Profanum in Kracow and Tzlil Meudcan Tel Aviv.
As a soloist she has appeared with the Warsaw Philharmonic Orchestra, Polish Radio Orchestra, Sinfonia Iuventus, the New Music Orchestra, Illinois Modern Ensemble, and Neofonia Ensemble.
She has made numerous recordings for Wergo, Genuin Classics, Bôłt Records, DUX and Polmic labels.
Our Mission
We want to share our passion for new music with a broad audience. While we enjoy playing in traditional concert halls we believe that simply performing for a devoted audience is not enough to keep new music alive. Therefore we collaborate with artists in other disciplines, play outdoors and raise social issues in our concerts. We want to show that new music is connected with real life, that it is meaningful, exciting and simply great fun to play and listen to.
Gubaidulina Festival
Russian composer Sofia Gubaidulina (1931) is one of the most remarkable voices in contemporary music. Her music is distinctly original, steeped in religion, crystal clear and ultra-precise. we invited her to The Hague for a retrospective of her work. On 5 and 6 October 2018 the New European Ensemble, Residentie Orkest The Hague, and students of the Royal Conservatoire played a selection from her oeuvre, from early atonal compositions she wrote in the Soviet era to music she wrote only recently.
Moonstruck Intoxication (2010)
With New Opera Amsterdam and the successful opera director Lotte de Beer we staged two 20th-century classics: Peter-Maxwell Davies's Miss Donnithorne's Maggott and Schönberg's PIerrot Lunaire. This double bill was presented in several theatres in the Netherlands.
Voices (2010, 2012)
In Voices (1973) the German composer Hans Werner Henze addresses political repression and the violation of human rights. This theatrical masterpiece asks for 70 different musical instruments from all over the globe. We presented it with Amnesty International. A photo exhibition on the Universal Declaration of Human Rights was shown at the venues where we performed.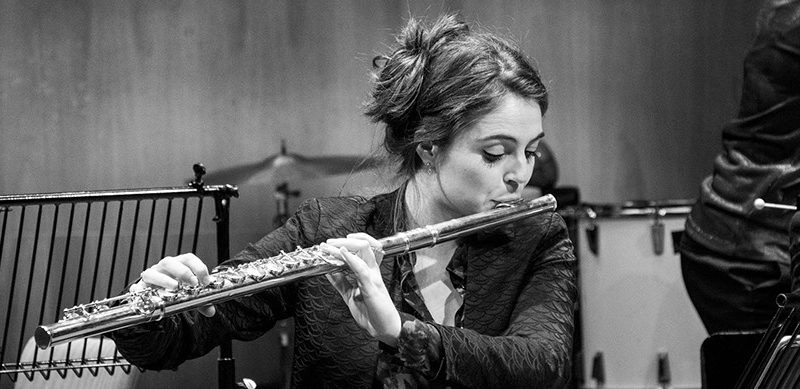 Strange News (2012, 2014)
In Strange News music, film and theatre merge. This masterpiece by the Norwegian composer Rolf Wallin and the Flemish director Josse de Pauw confronts the audience with the fate of child soldiers in Central Africa. We presented Strange News with the actor Arthur Kisenyi from Uganda, in collaboration with The Hague's International Crime Court (ICC).
Saariaho Festival (2011)
A three day festival in The Hague around Kaija Saariaho, one of our time's most prominent composers. Saariaho herself was present.
Lindberg project (2013/14)
During the season 2013/14 Magnus Lindberg was composer in residence. It was exciting and a privilege to work closely together with him. He joined our rehearsals and concerts with his music in The Hague, Amsterdam and Arnhem.